Our Lady's Day Out to Titanic Belfast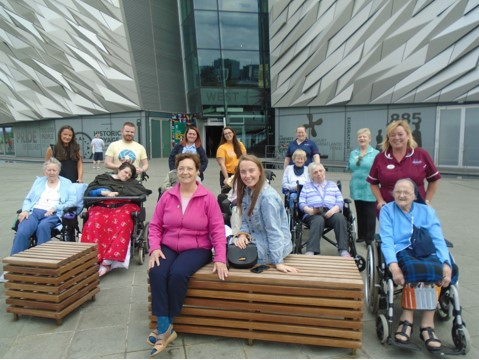 30th July 2019
Our residents in Our Lady's are massive fans of Titanic the movie and often watch it in the social room together, so the team thought they would give them a special treat and take them to Titanic Belfast!
Titanic was voted the world's number 1 tourist attraction and the world's largest 'Titanic' exhibition, the famous attraction documents everything about the ship, from her construction to her voyage and legacy. With it being so close to our Belfast home, it was only fitting that a day out was scheduled here. Taking a step back in time the residents made their way through each section of the museum, this was reminiscence at its best! All of the old fittings, props and artwork, it really brought back some great memories to our residents. They learned about about Belfast history, browsed the interactive displays and watched audio visual presentations.
A few even managed to have their own 'Jack & Rose' moment singing "Near, far, where ever you are…". After a pit stop for some refreshments in the cafe, it was on to the rest of the museum. The hospitality at Titanic was fantastic and the day ran smoothly thanks to the friendly and professional team.
If you or a loved one are seeking care in the Belfast area then contact Our Lady's Care Home on 028 9032 5731.