We care with heart because…
Caring is in our blood. It's what we do. It's what drives us to be the best we can be.
It's who we are.
We care that all our residents are served only the finest home-cooked food, that there is always fresh water on hand, that their laundry is taken care of and that respect and dignity are given at all times.
We're there, because we care.
Macklin Care Homes, headed by the Macklin family and part of the Macklin Group, have been caring for people for over 30 years. We've taken all our experience over all those years to bring the very best of our knowledge and our expertise to you.
We're experts at what we do.
We're not just another Care Home, we're a family first and foremost and we treat everyone we come into contact with as one of our very own. From staff to residents to relatives to suppliers to the postman – we're all one big community!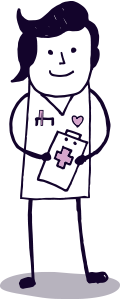 Taking care of each other
We're natural carers. And that comes from within. We believe that caring is a calling in life – that there are people born to do it; that's exactly the kind of people we have in our team.
To us, your most valuable asset is that you know how to care.
We are dedicated to treating people well and committed to continuous development – so you can be reassured that can put your trust in us.