We care with heart because…
We are fully committed to delivering the highest possible standards across all our of our care homes. We continually invest both structurally and through staff training and progression to ensure we offer our very best - at all times.
The biggest reward is happy residents! Our awards just happen to be something we pick up along the way.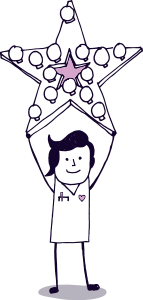 IHCP Awards 2019, Flourishing Resident Award, Marie McCartney, Highly Commended

IHCP Awards 2019, Nursing Award, Laura Campbell, Parkmanor Oaks, Winner

RCN Awards 2018, Learning in Practice Awards, Runner up, Claire Black (Park Manor)

NI Top 40 under 40, Cara Macklin, 2018

CIPD NI, HR Team of the Year, Highly Commended (Macklin Group), 2018

CIPD NI, Excellence in HR Leadership, Winners (Macklin Group), 2018

Staff Nursing Ltd Awards, Senior Healthcare Assistant of the Year – Highly Commended – Emine Hurley (Park Manor, Senior Care Assistant), 2018

Staff Nursing Ltd Awards, Senior Healthcare Assistant of the Year – Highly Commended - Vladimir Stoenescu (Park Manor, Senior Care Assistant), 2018

Staff Nursing Ltd Awards, Healthcare Assistant of the Year – Highly Commended - Criostoir McCarthey, (Park Manor, Care Assistant), 2018

Staff Nursing Ltd Awards, Inspirational Achievement in Dementia Related Activities & Alternative Therapies – Highly Commended – Park Manor, 2018

Staff Nursing Ltd Awards, Nursing Home of the Year – Highly Commended – Arlington, 2018

Staff Nursing Ltd Awards, Ancillary Worker of the Year – Winner – Janet Rae (Arlington, Ancillary Worker), 2018

Staff Nursing Ltd Awards, Nursing Home of the Year – Winner – Milesian Manor, 2018

Staff Nursing Ltd Awards, Home Manager of the Year – Winner – Claire Black (Park Manor, Nurse Manager), 2018

Staff Nursing Ltd Awards, Investment in Training Award – Winner – Macklin Group, 2018

Staff Nursing Ltd Awards, Registered Nurse of the Year – Winner – Joanne McCollam (Arlington, Deputy Nurse Manager), 2018

Randox Health Healthcare Awards, Care Home of the Year, Milesian Manor, 2018

FSB Family Business of the Year Award, 2018

Heart of Peninsula Care Awards, Highly Commended , Arlington Nursing Home

IHCP Emerging Leader - Ciaran McGowan (Care Assistant Supervisor), Park Manor

IHCP Flourishing Award - Annie Lake (Resident), Ratheane

IHCP Leadership Award - Claire Black (Nurse Manager), Park Manor

IHCP Specialist Practice Award Finalist - Gabi Jivan (Staff Nurse), Park Manor

IHCP Nursing Care Award Finalist - Laura Campbell (Senior Staff Nurse), Park Manor

IHCP Care Team Award - Nursing Homes - Park Manor

IHCP Care Team Award Finalist - Nursing Homes – Milesian Manor

IHCP Backbone Award Finalist - Paula Drumm (Administrator), Park Manor

IHCP Backbone Award Finalist- Agnes Huey (Cook), Leabank

Staff Nursing Care Awards, 2017, Healthcare Assistant of the Year, 2017, Moya Hill, Park Manor Care Home (Highly Commended)

Staff Nursing Care Awards, 2017, Senior Healthcare Asisstant of the Year, Emine Hurley, Park Manor Care Home (Highly Commended)

Staff Nursing Care Awards, 2017, Senior Healthcare Assistant of the Year, Ciaran McGowan, Park Manor Care Home

Staff Nursing Care Awards, 2017, Registered Nurse of the Year, Nicola Smyth, Park Manor Care Home (Highly Commended)

Staff Nursing Care Awards, 2017, Registered Nurse of the Year - Laura Campbell, Park Manor Care Home

Staff Nursing Care Awards, 2017, Home Manager of the Year, Claire Black, Park Manor Care Home (Highly Commended)

Staff Nursing Care Awards, 2017, Excellence in Dementia Care, Park Manor (Highly Commended)

Staff Nursing Care Awards, 2017, Nursing Home of the Year, Park Manor Care Home

Staff Nursing Care Awards, 2017, Investment in Training Award

RCN NI Ireland Nurse of the Year, 2017, Healthcare Support Worker Award, Ciaran McGowan, Park Manor Care Home

RCN NI Ireland Nurse of the Year, 2017, Patient's Choice Award, Gabi Jivan, Park Manor Care Home

RCN NI Ireland Nurse of the Year, 2017, Brownlee-Silverdale Leadership Award (Runner up) Claire Black, Park Manor Care Home

NI Family Business Awards, Lifetime Achievement Award, 2017

NI Family Business Awards, Employer of the Year, 2017

CIPD NI Award Winner 2017 - Best Employee Engagement Strategy