Reminiscing Workshop Opens Up a Very Unexpected Connection Between Two Residents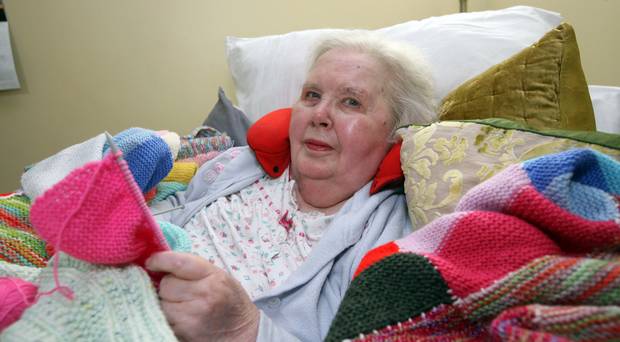 9th December 2019
Reminiscence therapy is very popular at Ratheane and during a particular reminiscence sesssion a very interesting story was uncovered...
During the war, Ratheane resident Vera was living in Belfast, she has lots of memories about the war. She remembers the darkness in the streets, the gas lamps in the houses, the blackout blinds, she remembers the wardens coming round if there was even a chink of light at the window. Vera remembers running to the air raid shelters built in the Belfast streets.
"When you heard the sirens you just ran for the shelters". Vera remembers the day that Belfast was first bombed. "It was Easter Saturday and Belfast was nearly flattened."
During the war Vera worked in a factory making army uniforms. She started out making soldiers trousers, she remembers the heaviness of the worsted material and she was very glad when she got promotion and was then creating stripes for officers.
Vera didn't know it but she was being watched from afar by an admirer. A young Welsh soldier, Bill was in Belfast training for the war. Bill was billeted near to where Vera worked and each morning when he was looking out of the window, Bill saw this beautiful girl with stunning brown hair and blue eyes walking past on her way to work.
He asked around to see if anyone knew her and as luck would have it his next door neighbour knew Vera well and was able to get them introduced.
Love was in the air and the 21 year old Vera married Bill before he went off to fight. Bill and Vera were only able to spend a few short weeks together before he was sent overseas and she didn't see him again until their baby daughter was 1 year old and Bill came home to see her for the first time.
Bill had received an head injury when fighting for the liberation of Nijmegen in Holland where another one of our residents Johanna Walker lived. Johanna and Vera now live together in Ratheane Nursing Home in Coleraine. Together they share special memories.
Johanna a girl who was liberated and Vera's husband a liberator.