Parkmanor Oaks Win at IHCP Awards 2019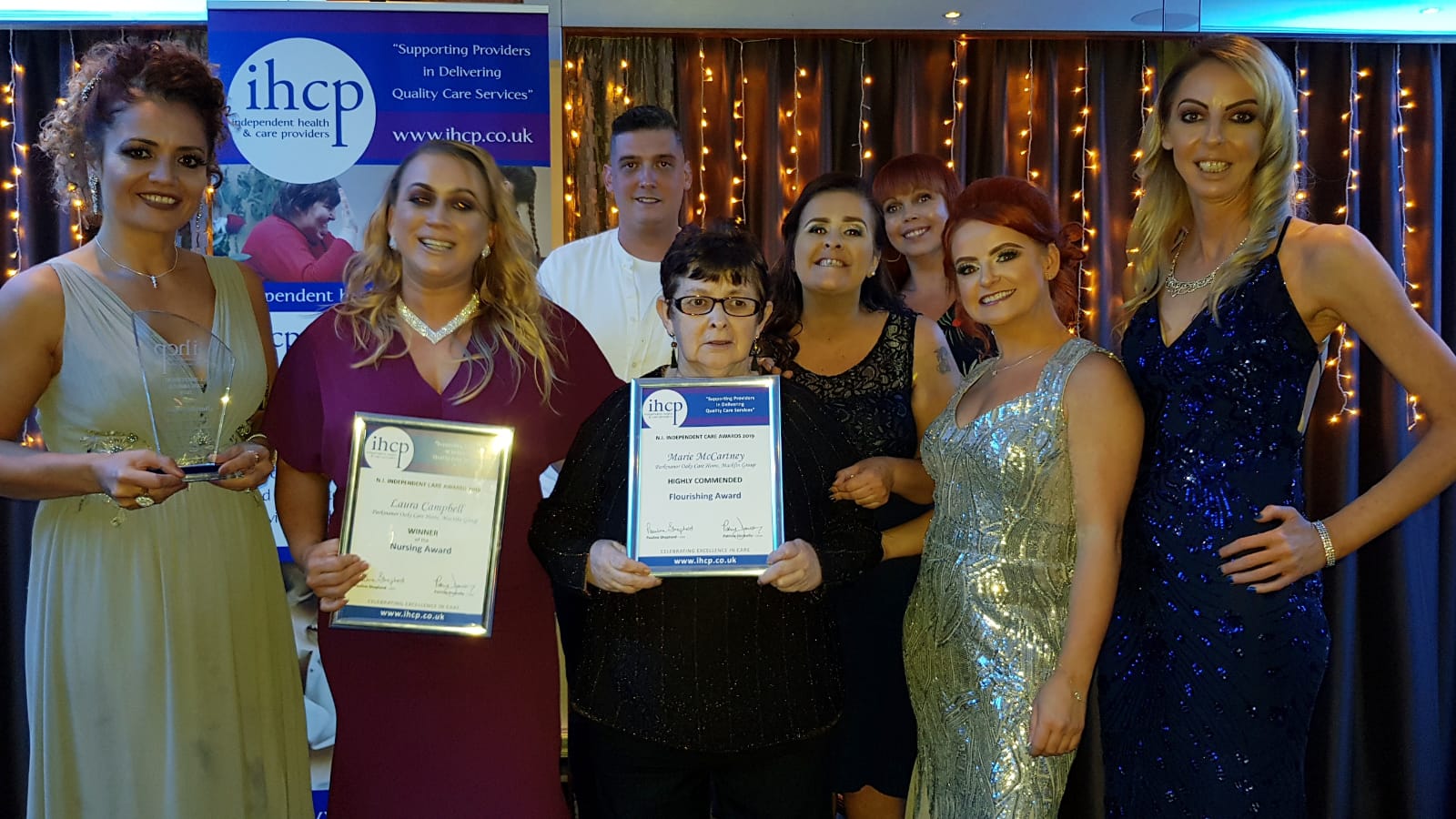 18th October 2019
The Independent Health Care Provider awards night took place on Thursday 17th October 2018 in Malone Lodge Hotel, Belfast. The grand room was full of prestigious members of care providers throughout Northern Ireland. Staff members from Parkmanor Oaks Care Home attended the night in their glad rags full of excitement for the successful evening ahead.
IHCP is the recognised member organisation for those providing services for older people and vulnerable adults in Northern Ireland. They represent private, not-for- profit, charity and church-affiliated organisations providing residential and nursing home care, sheltered housing and care in the home.
Laura Campbell, Deputy Nurse Manager and Marie McCartney, Parkmanor Oaks resident were both nominated for awards on the night and were called up to the stage to proudly accept.
Parkmanor Oaks Nurse Manager, Claire Black, said:
"We are so proud of both Laura and Marie on their award wins tonight, they are both incredibly important members of the Parkmanor Oaks family and have both made a huge different to our Home.
Marie always brightens up everyone's day in our Home, always smiling, singing and dancing and loves to help out at reception too! Marie is well loved by both the residents and the team and we were all so pleased to hear that she was announced highly commended of such an admired award.
Laura is a dedicated member of our team and we are over the moon that she won the Nursing Award, a great recognition for all of her hard work "
Our team constantly go above and beyond their call of duty which is proven by the IHCP awards. This mirrors the ethos of Macklin Care Homes that we care with heart and always treat people really well. If you want to be part of our award winning team then click here to view our current vacancies.