'Our Ireland Journey' by Our Lady's Care Home creative writing group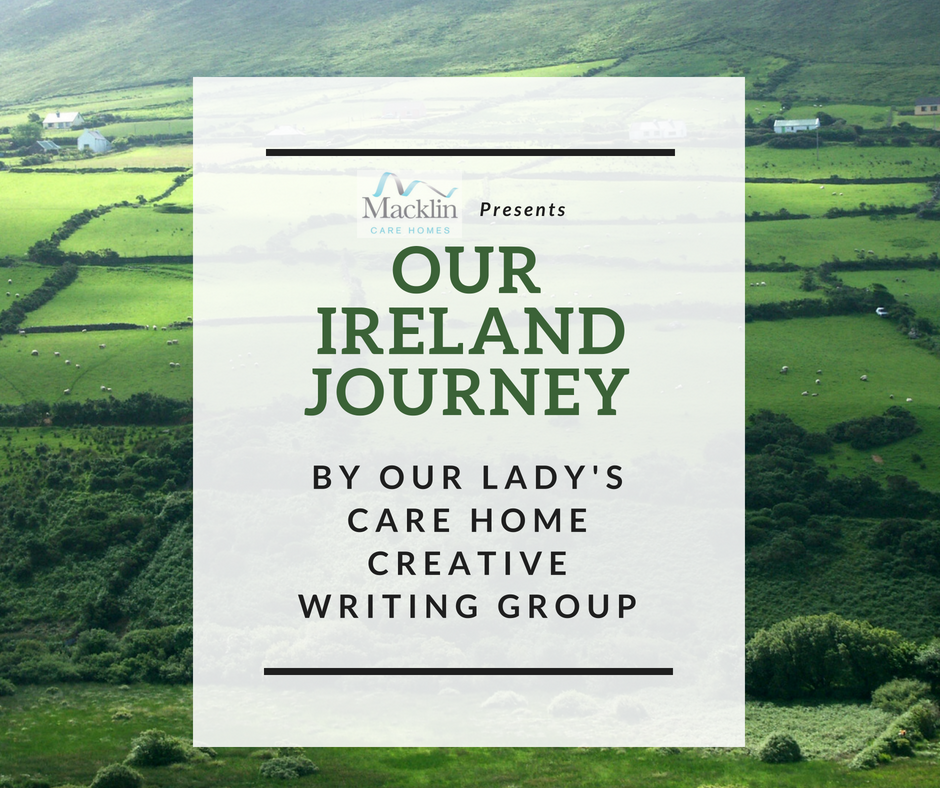 19th June 2018
This poem was put together by our residents in the creative writing group at Our Lady's Care Home, we are extremley proud of the groups collective approach and the final outcome. Who knows, we could have the next Seamus Heaney in our Belfast Home!
We'll start in Belfast where six were born
And see the watching giants, one, two three
Past Portrush, Portstewart and Antrim's glens
We'll glimpse Rathlin from Ballycastle's shore
Onward to Derry with its ancient walls
Its Bogside and Waterside joined by a bridge.
We'll move North to Malin Head
Where waves crash and boom onto the cliffs
And head past the church of St. Colm the dove
On to Creeslough and through it in a blink.
Next Kathleen's Killybegs where happy holidays were spent.
At Bundoran we're almost in Sligo
Where Yeats lies asleep under Benbulben
So we cast a cold eye and then pass by.
On down to Mayo and the Quiet Man
With Croagh Patrick's triangle against the sky.
Westport, Louisburgh, Silver Strand all call
With their soft Western air, their empty sands.
Onward we fly to Galway City
We see the River Corrib and the salmon run
From its bridge before we move to Clare
With its may flowers and its flaggy shore.
Down past the Cliffs of Moher and Spanish Point
We call at Lisdoonvarna to hear the music play
Then briefly touch on Limerick before we take the boat
And cross the banks of Shannon to Kerry's mountains fair.
We may catch a glimpse of dolphin as we stroll along the strand
And in Dingle there's a famous one who lives in the bay.
There's the Blaskett's and Valentia, islands we admire
As we pass through the ring of Kerry and land ourselves in Cork
There's Bantry Bay and Skibbereen, Castletownshend, Clonakilty
Where we'll eat the special pudding before setting out again.
In Waterford we gaze upon green fields and hedges high
We pass into Wexford and walk the planks of the famine ship
Which took so many starving folk to lands away from home.
In Wicklow, nestled between two lakes, we view Glendalough
The great monastic site of the island of saints and scholars
With its tower standing tall for a thousand years.
To Dublin now and here we rest, while others rush around us.
We sit by the side of Liffey, wander down Grafton Street
Take in a play at the Abbey and visit the Book of Kells.
Onward now to Drogheda and the famous Boyne ,
Then Carlingford's ancient castle on the Lough.
Close now to where we come from, we promenade
At Newcastle and hear the waves rush shorewards.
We're back in sight of giant yellow cranes
And well known view of towers tall and twin
It's Saint Peters and our well loved Falls Road.
We're home at last.